Welcome to Alteri.co, a new and upcoming art-focused role play game with its own website, exciting gameplay and endless possibilities. Subscribe to our mailing list for new info and updates, including sign ups for beta tests!
We will only use your email for newsletter purposes!
Explore a new way to draw and play
Alteri.co is an art role playing game — your goal is to create your own character, create or commission artwork to level them up, and use them in epic, story driven dungeon exploration! We mix old school pet site gameplay with site automated art submission systems, so there's never downtime to having fun!
Detailed, Crafted World
The world of Al Terico is one of many dualities. Some places, like Ordior, are technological marvels, while others are desolate wastelands. In the heart of it all lays the ancient Whistlewood, with unimaginable secrets.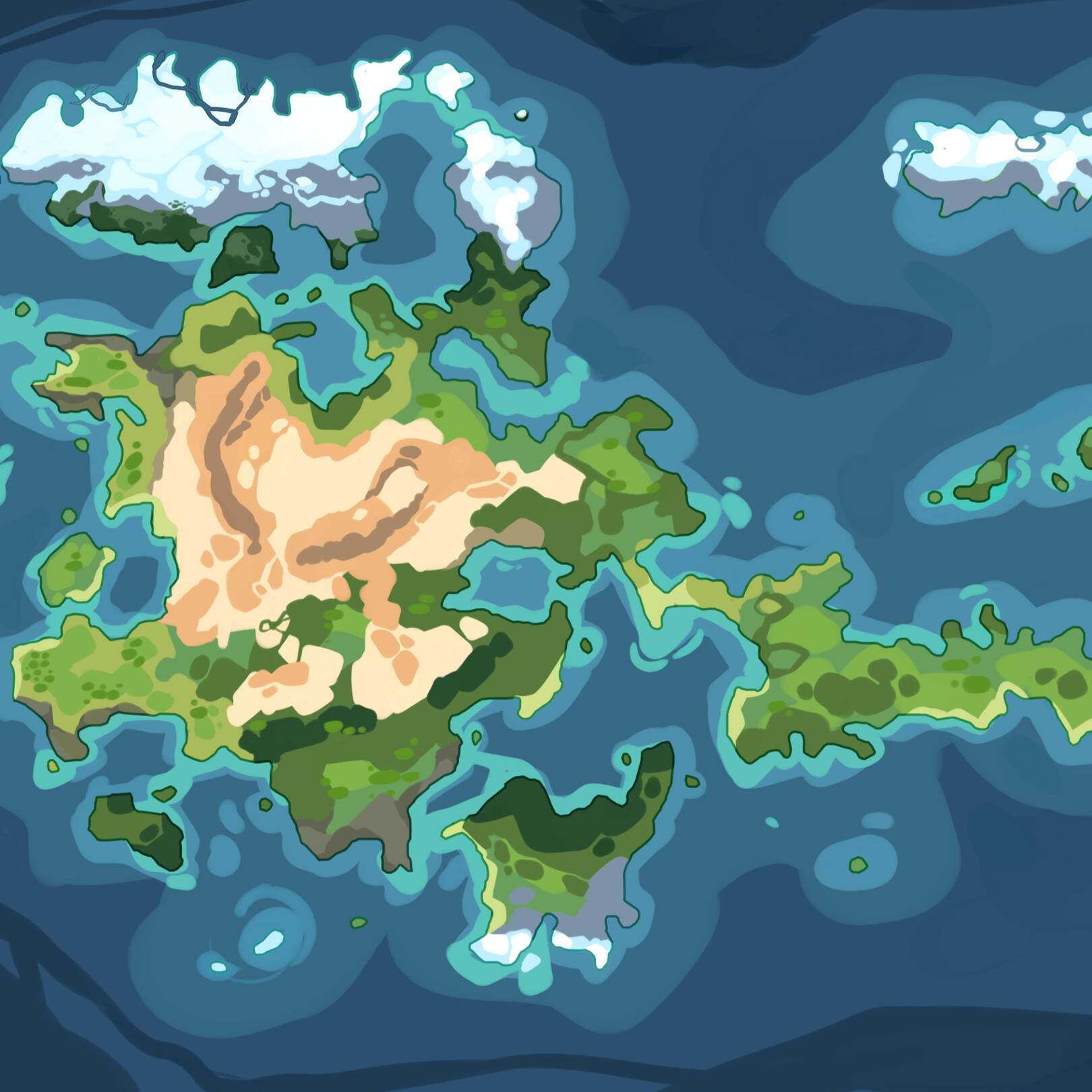 Coded from Bottom Up
Alteri.co is coded and designed with traditional, DeviantART based ARPGs in mind. When you submit artwork, every detail is carefully logged and viewable on site for all to see! (Or hidden, if you prefer.)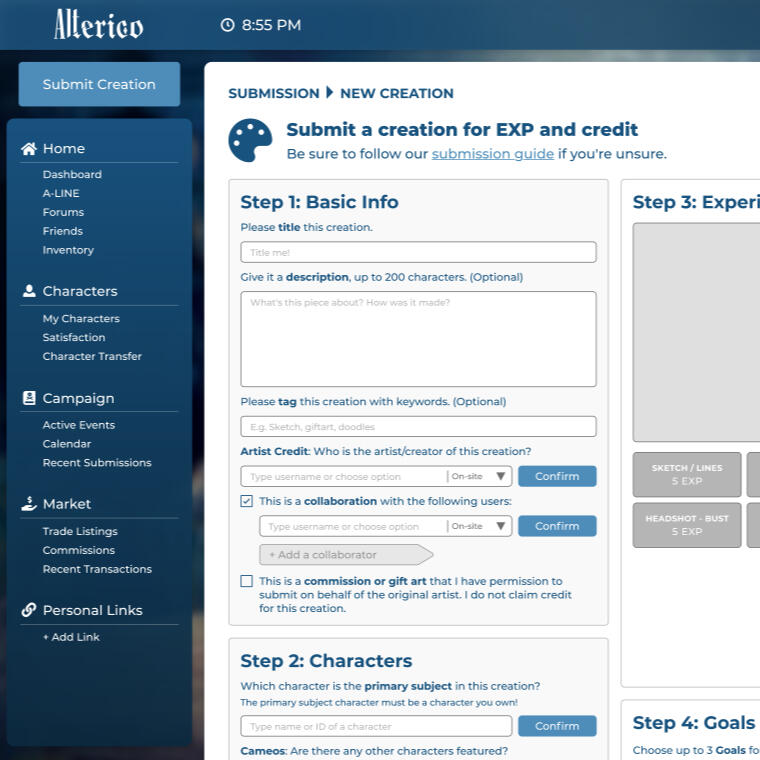 Create Your Own Character
Every character you make can be used to play the game in exciting ways. Explore dungeons, draw prompts to enhance their looks, even trade them between friends! Make your characters truly your own with our Curio and Trait systems.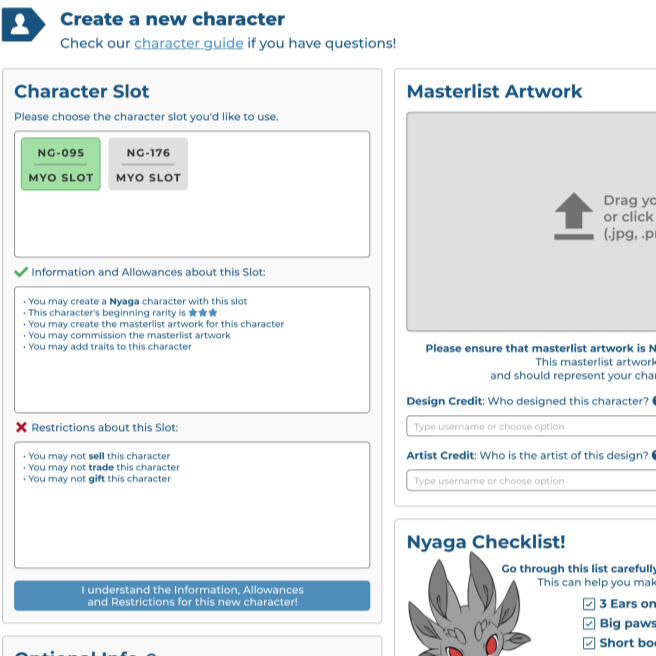 True Mobile Experience
Alteri.co is planned to also include a fully mobile experience, for those on the go or with tablet devices. Check your auctions and listings on the bus, at the store, anywhere!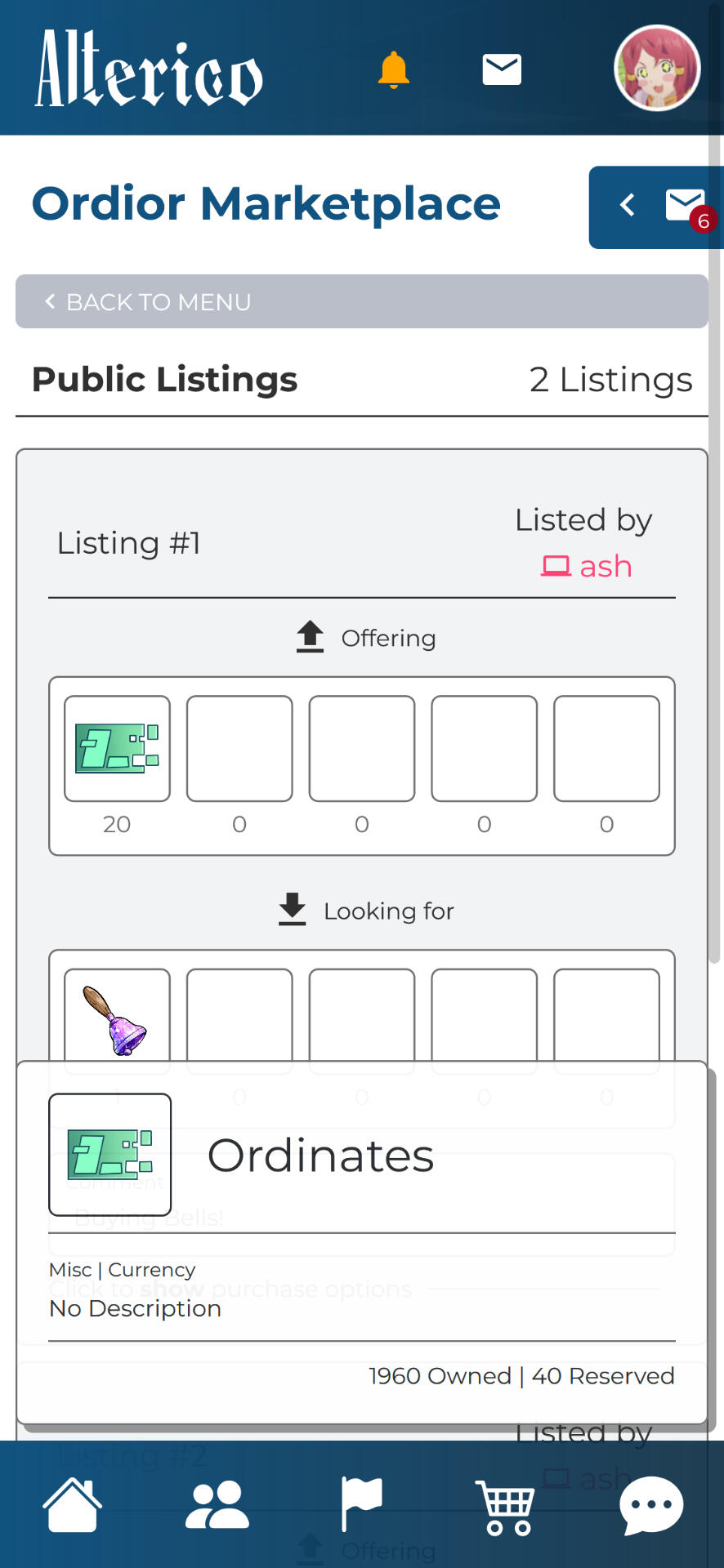 All screenshots are of in-development artwork and may not represent the final product on release.
Have a question? Check out our FAQ.
Welcome to Al Terico
Al Terico — A land of much duality. Where there is darkness, there is light. Where life is abundant, life also dwindles. In a world ravaged by great crystals called Lumen, those who seek safety in numbers flock to Ordior, the Origin City. Those that seek solitude flee to the Whistlewood, shrouded in deep mist. The forgotten ones meander between, making their living underfoot.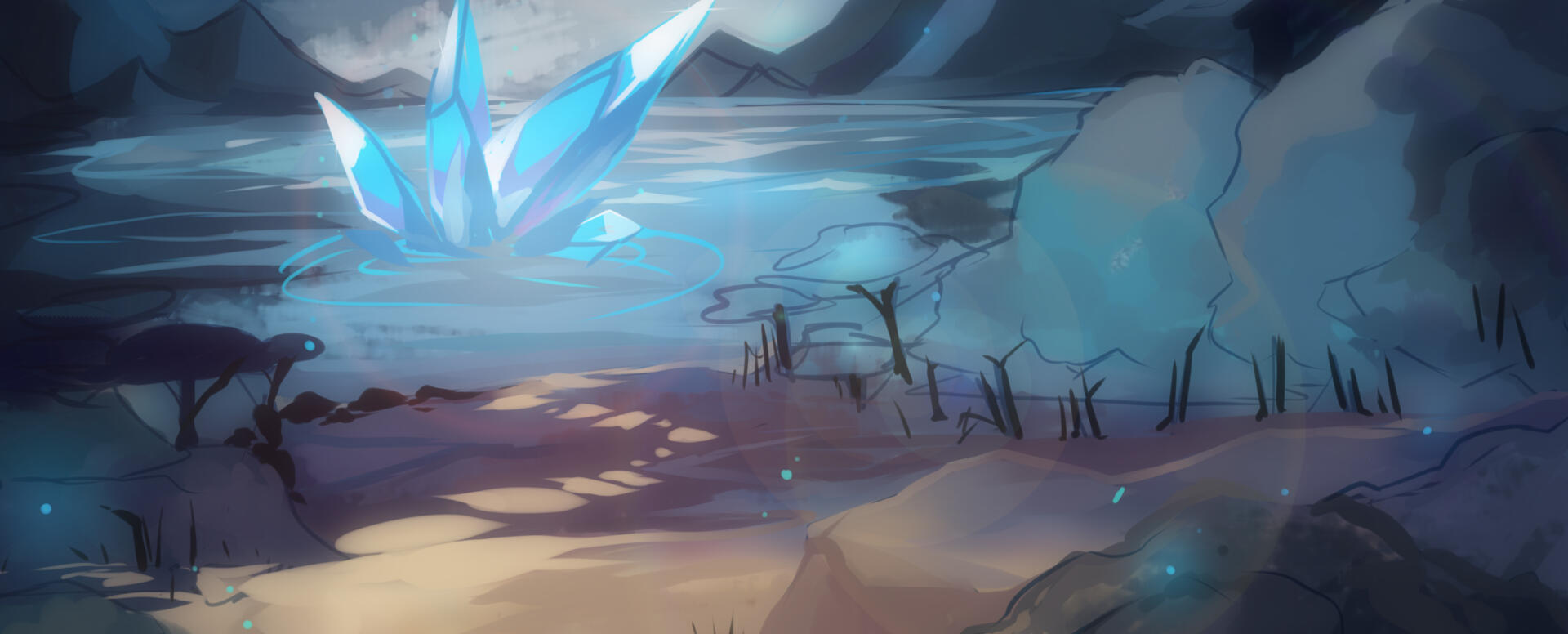 In this world, we witness the aftermath of a long forgotten cataclysmic event—A great metropolis built from the hollows of a great meteor. Ordior City enjoys all the modern conveniences of technology, like trams, cars and smartphones, thanks to the use of Lumenstones. Lumenstones power nearly everything in the city, and the citizenry enjoy their peace. Outside of the city, the world flourishes with wildlife, but also with dangerous areas known as Rings. The Rings may only be traversed under licensed individuals, but the rewards are known to be great.

While Ordior City is mainly made up of humankind, the great wilderness outside is dotted with many smaller settlements, one of the largest of which known as Agnyapolis, home of the Nyagas. The Nyaga are a short, cat-snake-like species with the curious ability to speak to humans. Their tenacious nature and ingenuity has labeled them as master craftsmen (crafts-Nyaga?).

Even further out, in areas that Ordians rarely venture to, is the ancient forest of Whistlewood. Rumors from daring adventurers say that there are indeed tribes of people that live there, and that the origins of the very popular Grundelwick pets are from this very forest. But who knows for sure? Who knows.
In the sands where Nyaga live
Hailing from all over the land of Al Terico is a peculiar group of critters known by the natives as the nyaga. Although they are one of the smaller races in Al Terico, do not underestimate their size--big things are known to come in small packages!
Born with big paws, they work with many tools, as well as operating weapons of any kind. Having worked with more than just primitive knowledge and several tools to their arsenal, they are naturalists of the crafting world. It is not uncommon to find products that are made by the nyaga paws. Many nyaga have traveled all over Al Terico to promote their expertise, originating from the harsh desert-like climate and their home settlement.

Due to living in the desert, these warmblooded critters are more often than not adapting with limited resources and even food choices. Thus, they are omnivorous but with a preference of eating small rodents and fish, much akin to their reptilian and feline counterparts. Despite their cute and cuddly appearances, these reptilian feline are actually quite hardy and adept, known for their instinctual adaptation to match their situation or surroundings. One prime example would be that their three sets of strange ears may have been a single appendage in the past, but have thus split for the betterment of their survival.

To counter the hazardous and unpredictable nature of the desert, most nyaga lead a nomadic lifestyle in groups of four or more where there are giant hostiles who hunt on them. Despite that, they are docile in temperament and sociable, preferring to avoid conflict. This does not stop the nyaga from becoming efficient hunters, though, for their curiosity takes them far and wide beyond than just being merchants or craftsmen!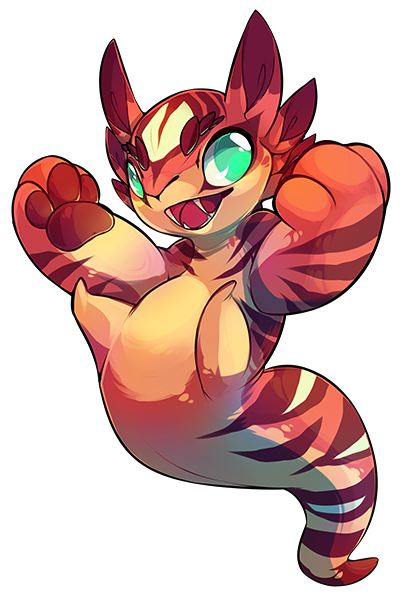 NOTABLE FEATURES
• Being one of the most adaptable species in Al Terico, the nyaga have the ability to evolve to match their surroundings. (Thus being an evolvable species!)

• That being said, they can come in a wide array of colors and body shapes, as well as possessing different features to alter their appearance.

• All nyaga are never quite the same as each other due to their evolvable traits, with their own individuality and uniqueness.

• Their tails can grow to extremely long lengths, enough to wrap their bodies with to sleep comfortably. The tail length can vary from nyaga to nyaga.

• Their tails are very strong as it is primarily used for movement. They can also "stand" on their tails to appear taller as they originally look.
Support Alteri.co's development and help us make this into something truly special
This project is entirely run by Asher and Ryou as a labour of love. We love drawing and making stories, and want to encourage others to do so as well, and that's why we want to make this for everyone. If you support us, you help us pay our developer and help us out during these tough times!
Supporter Packages
Supporter Tier · $5+

Gold Tier · $20+

Crystal Tier · $60+

And more...?
Link coming soon!
Sign up for our newsletter
Get the very latest news on new events, info, and even openings for beta testing!
Also follow us on our socials below if you prefer news that way.
Frequently Asked Questions
— Basic Gameplay
» How do I play?
The main way to play is to draw or make artwork, or write stories, to gain the game's currency called Ordinates. You use Ordinates to level up your characters, but you also use Ords to buy items and exchange goods. Once your character is strong, they can participate in dungeons called Rings.

» How is my artwork judged?
Artwork is judged based on effort, not skill. When you submit art, you input the level of completeness, or polish, and the game rewards you with the appropriate number of Ordinates. Art with lots of effort may even be rewarded more!

» I don't know how to draw, can I still play?
Yes! Non-artists/writers can also play by either commissioning an artist to draw their characters for them. We have future plans for non-artists to also use NPC characters temporarily to earn Ordinates to build toward their own character.

» If I'm a newbie at art, can I still play?
Yes, absolutely! Alteri.co welcomes artists of all skill level to join and improve their artwork. By playing the game and drawing often, you may find your skills improving quickly.

» Can I submit traditional artwork?
Yes, we encourage art of all mediums and types, whether that might be papercrafts, clay, cloth, etc.
— Our Unique Species
» What is a Species? What does Closed or Semi-Open or Evolving Mean?
A Species (in the context of these types of games) is a unique creature with unique characteristics that make it identifiable. Some Species are Closed, meaning you are not allowed to make any without permission. Some are Semi-Open (like ours!) where you may make one but it must be approved by us to be official. Evolving species (also ours!) are unique in that you start with a basic creature and change it to your heart's desire.

The official species of Alteri.co are the Nyaga and the Grundelwick, and by extension the unique human lore and their relationship with Kizna.

» What are Adoptables?
Adoptables are special designs created by either Asher or Ryou, or a guest artist. These designs come as is, along with all the traits they are drawn with. Nyaga or Grundelwick adoptables may be used in our game as it's own character, and come with it's own character slot. Think of them as a special, premade character handcrafted lovingly! Normally, Adoptables can be purchased in sales or auctions, but can also be contest prizes.

» Can I draw fanart for other people?
Yes, we highly encourage it! Drawing art for others or including other official characters in your own artwork grants you a small bonus.
— Cash Shop
» Are there any Pay-To-Win perks?
No. We will be doing our utmost to balance the game so that players that donate to us or purchase things from our cash shop do not gain any advantage over free players. Most premium currency items are planned to be cosmetic only.

» Is there a premium currency?
Yes. Our premium currency is called Lumencryst, which you can use to buy items in our cash shop. There is a "free" version of the premium currency, called Lumenstone, which function identically to Lumencrysts in the game. We will give out Lumenstones regularly as daily and common prizes!

» What is Gacha?
Gacha is a chanced based game where you pay a certain number of Lumenstones/Cryst and gain something from the available loot list. It's an exciting way to spend your Lumenstones/Cryst for a chance at very rare and beautiful traits! All the items earned from Gacha are cosmetic only, and do not impact the leveling up and dungeon experience.

» How will my money be used?
If you'd like to support us, your money will be used to directly pay for server and upkeep costs, as well as paying our awesome web developer. As we expand, if we choose to hire moderators and volunteers, we will also ensure that they are fairly paid for their time.

» How can I get premium currency if I cannot pay?
Lumenstones are the free version of our premium currency. We plan to regularly give out Lumenstones to active players to reward them for checking in! Lumenstones may also be given out as contest and event prizes. The more active you are, the more you can earn!

» Will I be behind in progress if I do not pay?
Never. We will do our utmost to never gate content behind paywalls, and we believe in accessibility for everyone, whether you are a day one player, or brand new. We urge players to only pay if they are able and if they enjoy our game enough to support us.

Have a question or concern that isn't here? Email us at hello@alteri.co or reach us on Discord / social media. We'll reply as soon as we can!
Note: Some of these answers may change slightly as the mechanics of our game are developed. Thanks for understanding!
Check your email
We're really excited for you to come play with us!
Keep in the know by following our socials,
or by joining us in our development Discord server.
Be sure to check your email / spam box
to confirm your newsletter sign up,
and also add hello@alteri.co to your whitelists for future mails!
Support Alterico and fund future development!
Thank you so much for considering supporting us! Every dollar sent to us goes straight into developing the game and to our developer, and helps us keep making meaningful content for everyone pre-release.

Even if it's just a little bit, we'd love to give back and promise on-site goodies when the site releases in full! Check out our Supporter Tier packages and see what you can get!
Supporter Packages
In this tier, you'll have your name etched into our fabulous Credits page forever, as one of the founding members of the game! If you make an account with us on release (which we assume you will!), your name will link to your profile. This tier (and all tiers above this) also gains Early Access status, which means you'll be able to start playing the game 3 days ahead of other players!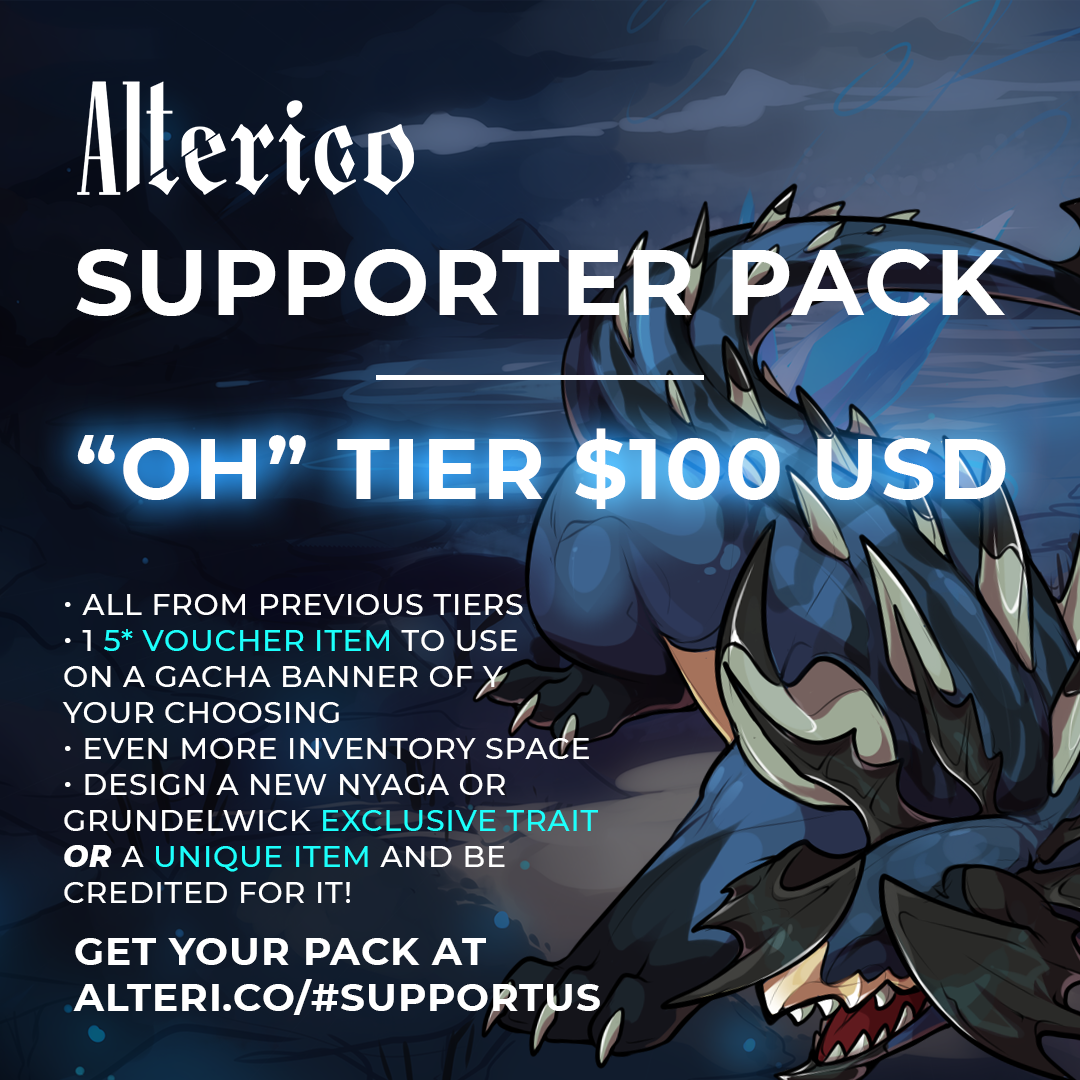 In addition to everything above, Gold Tier supporters will gain Beta Tester status, which means you'll be able to help test the game when its core features are out of private Alpha testing. We estimate this will be around end of October 2021. Also, you will get an exclusive Chat Badge not available to other players until 2023! To round it off, please also enjoy a Glass Bell (an item used to freely choose any 3★ rarity trait and apply it on your character), and 1500 Lumenstone (our 'free' premium currency), on us.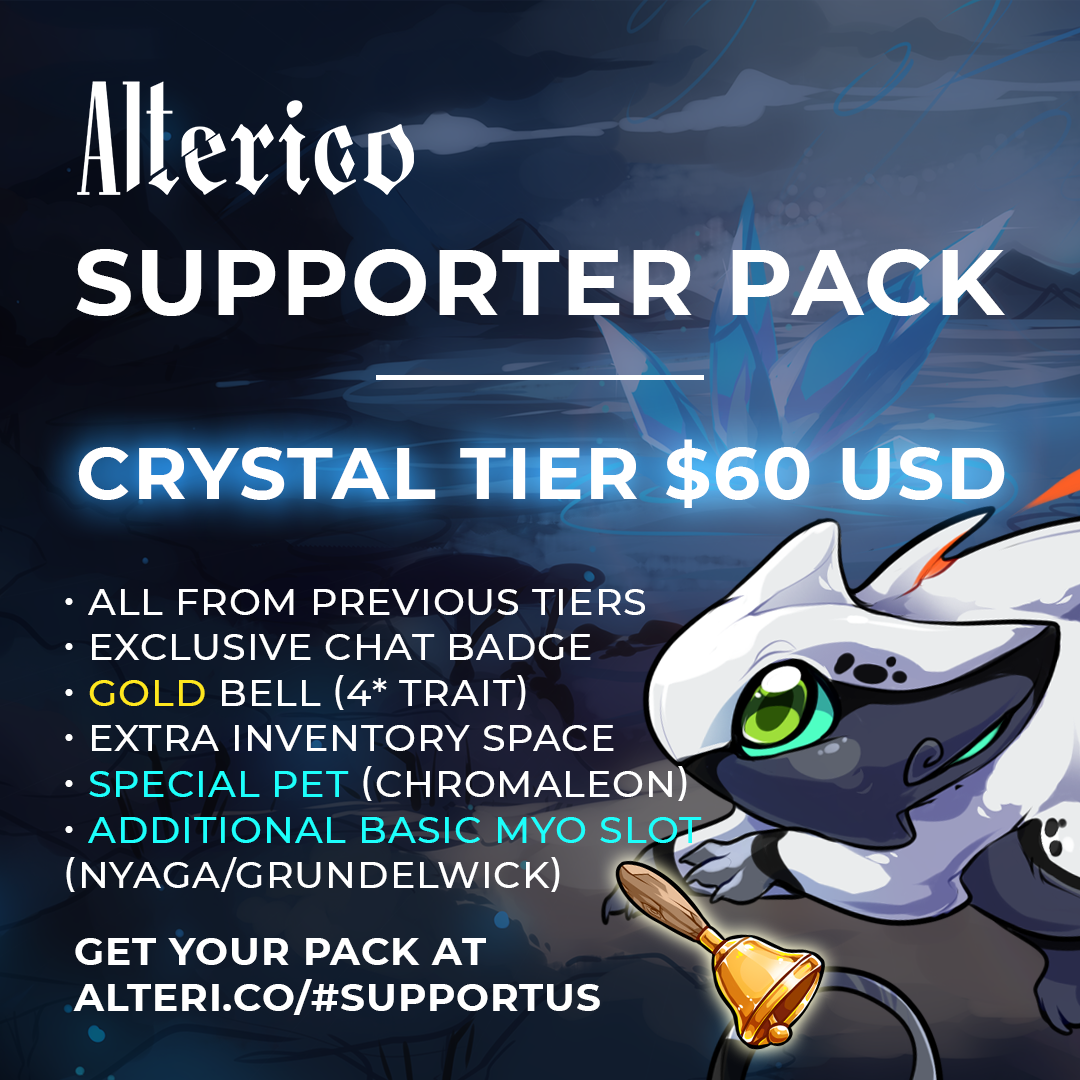 In addition to all the goodies in the tiers above, Crystal Tier supporters will earn a super special Curio on their first created character. A Curio is like an achievement your character can earn, so this Curio is very special and unique to your character for being the first of the bunch! In Alterico, your inventory will be very important to amass items you get on your character's travels, so in this tier, you get 10 additional Inventory Spaces! You'll also get a Gold Bell trait item, which allows you to freely choose any 4★ trait and apply it to your character. This tier also includes the introduction of our very prismatic pet, the Chromaleon, that you can attach to your character! This pet will not be available in game until 2023. Finally, the best part of this tier is an additional Nyaga or Grundelwick basic MYO, allowing you to make a third character on top of the two free characters allotted per player. Make a whole family all on your account!
Oh. You love us. You really love us! We're humbled that you'd like to choose this tier, and with this one you get only the best of the best. In addition to everything listed in all the above tiers, you will also enjoy a 5★ Voucher Item to use on any of our fun gacha banners in the future! Gacha is one of the many ways you can earn traits in Alterico, and a 5★ Trait is considered the rarest of the rare. With this item, you'll get a random 5★ Trait from any of our future Gacha campaigns, wow! We'll also throw in another 10 Inventory Spaces, for a total of +20 from the base amount! And here's the best part of all: In this tier, you will have the option to work with us directly and design a new Nyaga and/or Grundelwick exclusive trait or design a unique food or weapon item, and have copies of the item sent to you on the game's release. This item you create will us will have YOUR name on the tooltip, forever.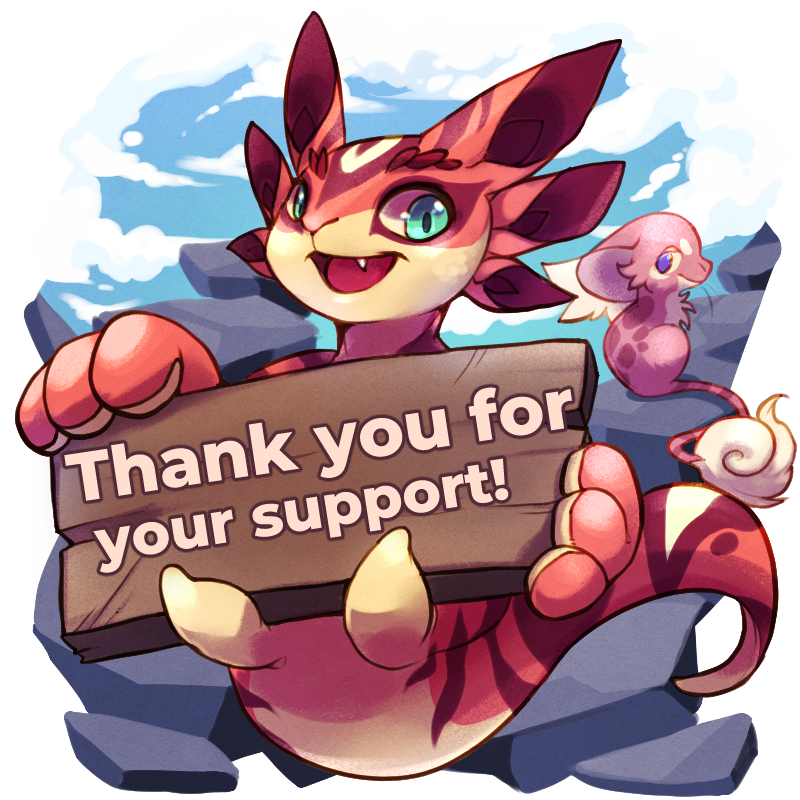 | Donation Perks | "Oh." $100+ | Crystal $60+ | Gold $20+ | Supporter $5+ |
| --- | --- | --- | --- | --- |
| Your name in the credits page | ✔ | ✔ | ✔ | ✔ |
| Early Access (3 days before release!) | ✔ | ✔ | ✔ | ✔ |
| Beta Tester (Late October 2021) | ✔ | ✔ | ✔ | |
| Exclusive Chat Badge* | ✔ | ✔ | ✔ | |
| 1 Glass Bell (Choose a 3★ Trait!) | ✔ | ✔ | ✔ | |
| 1500 Lumenstone* | ✔ | ✔ | ✔ | |
| Unique Curio on your first character* | ✔ | ✔ | | |
| Inventory Expansion (+10 space) | ✔ | ✔ | | |
| 1 Gold Bell (Choose a 4★ Trait!) | ✔ | ✔ | | |
| Limited Time Exclusive Supporter Pet item | ✔ | ✔ | | |
| Your choice of one Nyaga or Grundelwick basic MYO item* | ✔ | ✔ | | |
| 1 5★ Voucher Item to use in any gacha banner of your choice* | ✔ | | | |
| Even MORE Inventory Expansion (+10 space) (+20 Total) | ✔ | | | |
| Design a new Nyaga and/or Grundelwick exclusive trait with us and receive 3 copies of the trait on release, credited to you in the tooltip (4★ Rarity) OR Design a unique food or weapon item with us and receive 10 copies of that item on release, credited to you in the tooltip | ✔ | | | |
* This perk is account-bound and may not be given/traded to another player.
Ready to grab your goodies?
Choose your Supporter Pack and pay below!

IMPORTANT: Please ensure that this email can be contacted by us. We will email everyone with a personally written confirmation. This also means that by purchasing a supporter pack, you consent to us emailing you with crucial information associated with your future Alteri.co account. Thanks for understanding!
Coming Soon!
I have questions / need help.
What if I want to upgrade my tier later?
If you want to upgrade, simply return to the payment page above and enter a custom amount to reach your desired tier. We keep track of everyone who donates and how much, so that we can properly give out all the goodies on the game's release. Once you add more to your initial package, we'll email you again to confirm that you'd like to increase your tier.
I didn't get a confirmation email from Alterico.
The emails we send out are manually tracked and sent, so please give us a couple of days to send them out! If you do not see any email, please double check your spam folders. If you still do not have an email from us, please feel free to message us at any of our social media or directly email us at hello@alteri.co.
Your goodies and items will be sent to you on the game's full release date, which is to be determined. They will be sent to your account, which should be the same email as the one you donate from (or the one we use to email you with), so please ensure that the email you use is your own and the one you will use to sign up with.
I need to change my email / I didn't supply an email when I paid!
No worries! Please email us at hello@alteri.co and we will get it sorted out for you.
Thank you for supporting.
You're seriously awesome. Thank you! Your money goes directly towards paying our developer into getting the game out faster and better than ever.

What's next? We'll personally email you to confirm your email and username within 5 business days. We keep all payments on record, just email us if you ever want to reconfirm.